MANUALLY DUG LAPLAND GOLD IS ECO GOLD
Finnish alluvial gold has a high quality with a gold contents of around 23 carats. It is the purest gold found in nature. The amount of gold, dug by the Lappish gold diggers, is some ten kilos. Lappish gold has its own value, and the marketing price of a beautiful nugget can be multiple compared with its price based on metal contents. The rivers Ivalonjoki and Lemmenjoki in Finland make up two well-known gold digging areas. The better known Lemmenjoki area was found in the 1950s, and gold was found in the traditional gold panning area in Ivalonjoki as early as in 1868.
AREA OF IVALOJOKI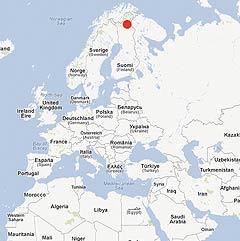 The hills of Saariselkä are old mountain roots. 2000 million years ago, there were mountains which were around 4 kilometres high. The area is situated north of the spruce growing boundary, and climate is clearly warmer than a little more southwards. The area of Saariselkä meant originally mountain areas east of the river Suomujoki. The Union of Civil Servants launched the name Saariselkä Camping Area, and this name includes now the highlands and holiday area of Raututunturi hill. However, the name Kaunispää is used in official area documents.